Visit Cherokee for Your Last Minute Shopping!
12.18.2017
Artist, Qualla Boiz (Photo courtesy of the artists)
During the holiday season, it's fun to pick out gifts for your loved ones that reflect their personality and interests. Because of the time, energy, and creativity that go into making them, handmade and artisanal items can make thoughtful presents that your friends and family will love. We're so fortunate that Cherokee, North Carolina, is home to many artists and craftspeople who share their talents with us. These artists are preserving traditional methods and materials, while adding their own special twists and talents.
If you're still searching for what to give people on your list, look no further than Cherokee.
The Museum of the Cherokee Indian
"Handmade jewelry makes for a beautiful, unique gift," says Barbara Duncan, director of the Museum of the Cherokee Indian. "We have beautiful Pendleton items, books by Museum Press, and for stocking stuffers—decals by Qualla Boiz."
Qualla Boiz is a design company owned by Madison Hye Long and Lacey Arch—both members of the Eastern Band of Cherokee Indians and alumni of Cherokee High School. They put native designs onto decals and stickers, adding a modern style to traditional designs.​

The Water Spider decal. Artist, Qualla Boiz. (Photo courtesy of the artists)
According to Cherokee legend, "The First Fire," when the universe was created, there was no fire and it was very cold. Unlike the raven, owls, and snakes, who all failed, the Water Spider was able to successfully carry fire from a burning sycamore tree to the rest of the animal people. Honoring this legend, the Qualla Boiz created a Water Spider decal in several colors that are available at the Museum.
The Qualla Boiz make many different decals. These would be wonderful stocking stuffers!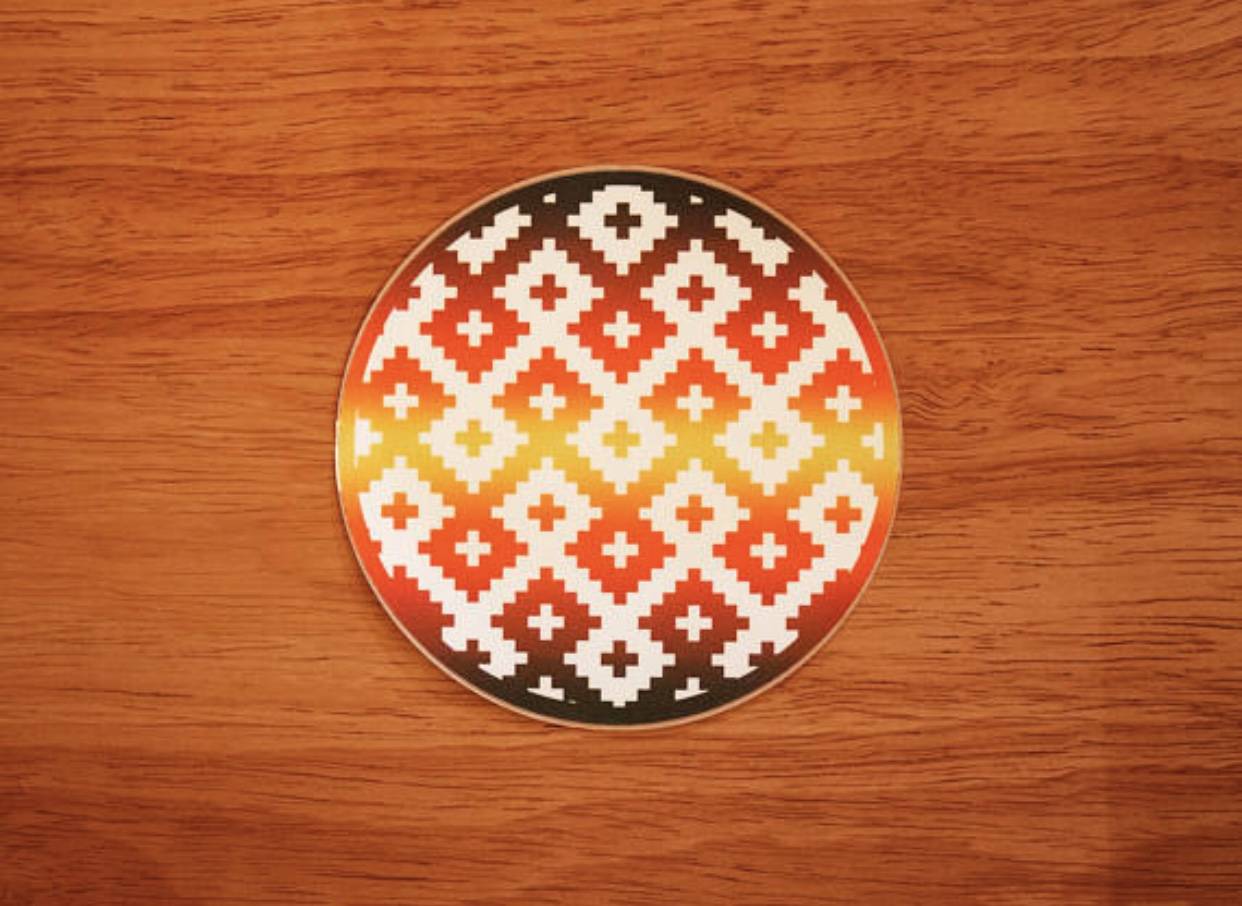 Unbroken Friendship designed sticker with a rainbow gradient. Artist, Qualla Boiz. (Photo courtesy of the artists​)
Tsa-La-Gi (Cherokee) North Carolina state outline decal. Artist, Qualla Boiz (Photo courtesy of the artists​)
Qualla Arts & Crafts Mutual
As the oldest Native American cooperative in the country, Qualla Arts & Crafts Mutual preserves the traditional arts and crafts of the Eastern Band of Cherokee Indians. Featuring the work of more than 250 members, Qualla is a one-stop shop for everyone on your holiday list.
Manager Vicki Cruz says that people can head to big box stores for presents, "but ours is handmade, authentic, and it encourages 'made in America.'"
For stocking stuffers, check out colorful corn bead necklaces, beaded earrings, little leather pouches, small baskets, keychain tomahawks, and small pipes.
If you're looking for children's items, Qualla sells eight-inch blowguns, three-foot blowguns, and pea shooters. Mildred Queen creates beautiful Cherokee baby dolls.
Cherokee baby doll. Artist, Mildred Queen. (Photo courtesy of Qualla Arts & Crafts Mutual)
For the chef in your life, consider a cutting board, cornmeal from Saunooke's Mill in Cherokee, or pottery, such as bowls and vases. Stan Tooni creates many traditional items, such as fishing poles, bows, and arrows. Stone pipes hit a range of price points from around $20 to $500.
Beaded lariat necklace with cornbead tassel & bracelet set. Artist, Betty Maney (Photo courtesy of Authentically Cherokee)
In addition to miniature white oak baskets and honeysuckle baskets and mats, you'll also find rivercane baskets. Mary Thompson is a second-generation basket maker, daughter of Geraldine W. Walkingstick and mother to Sarah. She prefers rivercane for single and double woven baskets. She told Authentically Cherokee, "It is more challenging and harder to gather and harvest and then work up the material into usable splits. The natural outer layer takes more time and dye. Weaving, especially the double walled baskets are more complicated. And on the single weave I use the old style rimming because it looks better and sturdier."
Doubleweave Rivercane Basket. Artist, Mary Thompson (Photo courtesy of Authentically Cherokee)
Heavily influenced by traditional techniques and materials, Betty Maney is a white oak and rivercane basket maker, bead worker, and potter. She cuts and dyes the oak strips used to create the baskets. Sisters Lucille and Ramona Lossiah are featured artists who work with rivercane. Lucille learned the family styles of weaving from her mother, Mary Jane Lossiah, and her grandmother, Betty Lossiah. Lucille learned rivercane basketry at the Oconaluftee Indian Village.
The history of rivercane being used in basket weaving and basket making dates back to as early as 600 AD. Growing along riverbanks, rivercane was once very abundant in the southeast. In Western North Carolina, you can find it growing along many rivers, including the Little Tennessee, Oconaluftee, ad Tuckasegee. Learn more about the history of rivercane in the southern Appalachians.
Wood carvings, such as walnut bears, are also popular gifts. Josh Adams works predominantly in the medium of wood sculpture (and you'll find his carvings at Qualla), but he also creates stone carvings, paintings, photography, molding, 3D printing, pottery, and videography. Josh comes from a family of Cherokee woodcarvers. "I try to produce unique works of art with meaningful cultural relevance," he says.
Gourd rattles make fun musical instruments. Drawing since age 13, Preston Bark has always had a natural talent for art, from wood carving to pottery making. For about a decade, Preston has been drawing in ink. His prints are for sale at Qualla.
"The Four Horsemen." Artist, Preston Bark (Photo courtesy of the artist)
Visit Today!
Now through December 31, Qualla is hosting a Holiday Sale. Take 25% off items storewide, excluding books and cards. Admission to Qualla Arts and Crafts Mutual and the gift shop of the Museum of the Cherokee Indian is free. To view the exhibits at the Museum, check out the admission prices.
The Museum of the Cherokee Indian
Open 7 days/week year-round. Closed on Thanksgiving Day, Christmas Day, and New Year's Day.
Winter Hours: (September to May): 9 a.m. to 5 p.m. Monday-Sunday.
Location: 589 Tsali Boulevard Cherokee NC 28719
Phone: 828.497.3481
Qualla Arts & Crafts Mutual
Winter hours: (September–May): 8:00 a.m. to 4:30 p.m. Monday through Saturday;
9:00 a.m. to 5 p.m. Sunday. Closed Sundays in January and February. In January, Qualla will be closed from January 1, 2018 through January 14, 2018 (reopening on January 15).
Location: 645 Tsali Blvd. (Across the street from the Museum of the Cherokee Indian)
Phone: 828.497.3103
Featured Points of Interest
---
Next Post »
« Previous Post
&nbsp